Client story #1: Adventures on the Gorge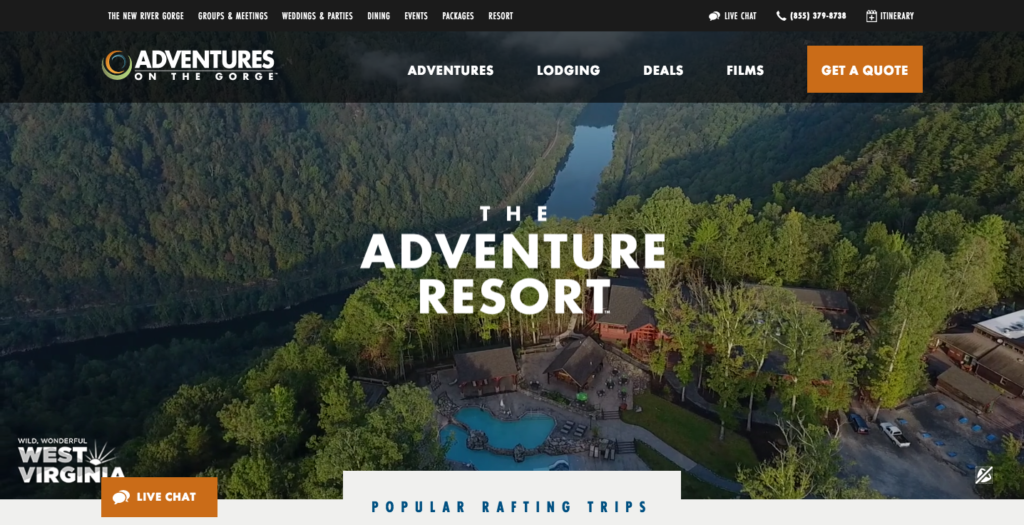 Over the course of a couple of decades several white water rafting operations got together and formed a single company, Adventures on the Gorge (AOTG). Sales of rafting outings were strong but the share of those purchased online was far below the industry standard. So, AOTG planned to have a new iteration of the website built with improved ecommerce. Like many strategic engagements, the client first attempted to solve their problem with a tactical approach.
After investigating their current business model and assets I realized that AOTG's struggle was not operational, it was strategic. They offered far more than guided white water rafting tours. They also offered zip lines, kayaking, ropes courses, rock climbing and a dozen other activities. In addition, they had several hundred lodging beds in scores of cabins that ranged from rustic to luxury. Plus, the multiple restaurants, swimming pools, hot tubs, and event spaces were all on property owned by AOTG. A property nestled in between the Gauley and New Rivers in West Virginia. They were far more than a white water rafting outfitter.
The true source of their struggle was a strategic position focused on sustaining a model that severely limited them. It also forced them to be seen as direct competitors with other rafting outfitters that only offered guided tours. Through some new strategic planning I was able to help them shift their identity and business model as an outfitter to that of an adventure resort. This new strategic position shifted their competitive focus from other small rafting outfitters to ski resorts and vacation resorts. It also gave them the freedom to develop new activities to fit into sustaining a full adventure resort business.
This strategic shift changed the direction of their new website, their printed marketing, their in-house magazine, the wayfinding on their property and, most importantly, the way they talked about their own business. The most valuable result was the realization they had a business that proved to be nearly impossible for competition to replicate.
Website designed and developed by Paramore.
---

Client story #2: Upper Room Ministries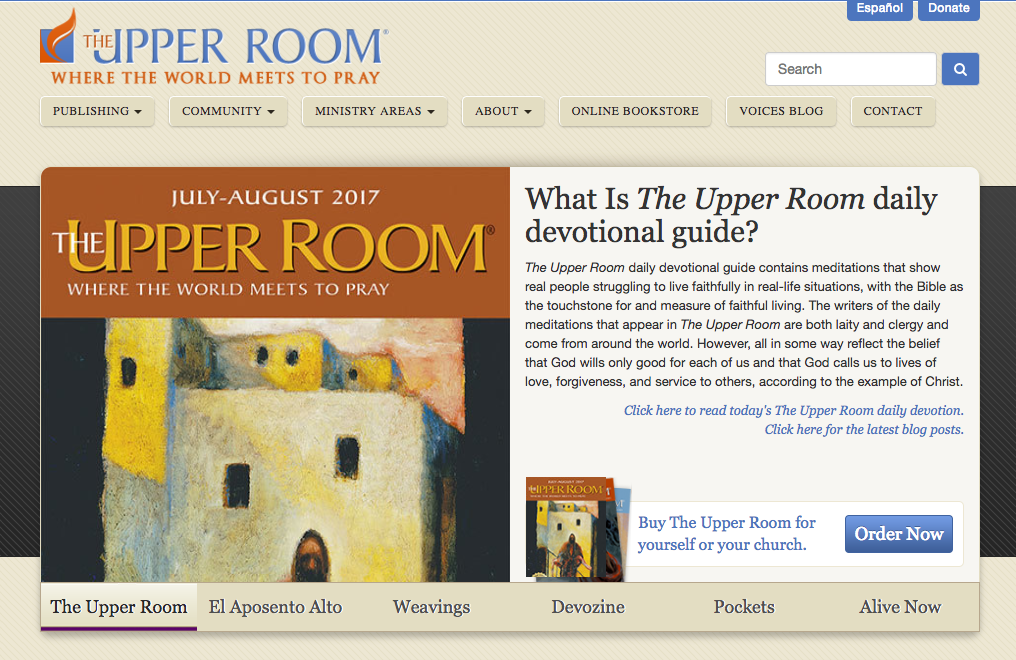 The Upper Room is best known as a daily devotional publication of the United Methodist Church. However, the organization of the Upper Room was far more complex with multiple programs centered around discipleship that had value outside of the printed publication. With a seriously outdated website and a heavily segmented organization of programs, the Upper Room was in real need of a strategic shift.
We were able to use the new website development as a catalyst to address higher level strategic needs. I met with representatives and leaders of nine different programs offered by the Upper Room as well as those who published the magazine by the same name. Through this we found common struggles and goals between each.
The tactical result was a new family of websites that shared a single aesthetic design and universal footer. Though each separate website had its own structure and experience. The strategic result was a better, more unified understanding of how each program fit into the organization as a whole and an increased empathy from each program for the others. The Upper Room is a great example of how sometimes strategic alignment may not change the product, but will provide valuable improvements to the activities surrounding the product.
Websites designed by cabedge and developed by Centresource. 
---

Client story #3: Morris County Tourism Bureau (NJ)

Older than the USA itself, the Morristown area is an historic region of New Jersey about 25 miles from New York City. Their tourism council had a truly tough struggle when it came to encouraging tourists to visit. With NYC just minutes away and destinations like the Jersey Shore and Atlantic City within a couple of hours of Morristown, it was difficult for Morristown to compete.
I spent a few days in the Morristown area. During this time I and the team I was with did more than just meet with the tourism council representatives. We experienced the main attractions and attractors that made up the best of what they had to offer. We found historic sites and museums of a quality and concentration hard to find elsewhere. And, they were all in a beautiful area that didn't feel "touristy."
After the visit it was clear that continuing to maintain the strategy of a "fun" and "exciting" tourist destination would not help Morristown. I helped them develop a new strategy focused on revealing the Morristown community and tourism council as expert historical preservationists and cultural curators. Their surrounding destinations couldn't compete with their new approach or identity. This freed Morristown from the urge to compete with them directly. In this way it even allowed them to become a bit disruptive in their market by offering a less expensive, simpler, and distinctly different offering.
This new strategic position gave them the foundation they needed to form new activities that directed their website, marketing, fundraising and collaboration with their attractions and venues.
Website designed and developed by Paramore.